At this day and age, no matter what age you are, the internet has way too many acronyms that will confuse you and annoy you. Just when you've gotten used to remembering what OMG, LOL, and WTF means, the internet just creates newer one. So there's the 411 on all the acronyms you need to know (at least for now) to survive the interwebz:
P.S: '411' is already really 'old-skool'. Well… and so is the term 'old skool'.
---
1. IRL = In Real Life / MIRL = Me In Real Life
The internet is what you would call a 'virtual life' and most of the time, we have a whole second persona online – we keep the real life neatly separated from our online life. However, if you want to talk about something related to your real life, just use IRL. These acronyms are usually paired with a gif/meme/picture to represent how it is in their real lif
2. ICYMI = In Case You Missed It
This is probably one of the few times the Internet is trying to be polite. ICYMI can be used if you aren't sure if the other person doesn't already know about something, or you are trying to repeat something you've said before. It's another alternative for "You might have already seen this, but if not, here you go".
Even Obama is trendy. 
3. JSYK = Just So You Know
This is another form of the term "FYI" (which means "For Your Information" in case you just joined the internet). According to some sources, using FYI might mean that you're old and you need to get with the program, but I think FYI is something that'll last at least for another couple of years.
JSYK, Jewish Community Centers provide preschool and after-care for kids who are and are not Jewish.

— K. Locke (@Bibliogato) January 19, 2017
4. The Not Safes
NSFW = Not Safe For Work
We all have that friend who will send us the most inappropes stuff during working hours. "NSFW" is warning that should come before you click on an image or story because most of the time it'll contain nudity, graphic language, or something so offensive that you may be fired for it. When NSFW is used, do not open the link whilst in an environment where someone might see it.
NSFL = Not Safe For Life
If NSFW is a warning that it shouldn't be opened in a formal environment, NSFL would contain content so graphic that it could be scarring for your eyes, whether around others or not. And to clean your eyes, one might say "I saw something NSFL. Time for some eye-bleach", and no, that doesn't mean pouring bleach into one's eyes. Eye-bleach is looking at what calms you or makes you happy such as pictures of kittens, puppies, or any other tiny cute animals.
5. The GIF Reactions:
 HIFW = How I Felt When
MFW = My Face When
MRW = My Reaction When
For social media platforms like Twitter, one only has so many characters to use, hence these acronyms give you more space. Also, when using these, one usually pairs it with memes, gifs or pictures that would represent how they're reacting or feeling when something happens.
HIFW:
HIFW #Battlefield3 is back on the market place, and all my old friends are playing again. pic.twitter.com/MgHl9RCmrQ

— GlasOfGin (@GlasOfGin) January 10, 2017
MFW:
MFW @Bjergsen calls Ice Cube "Ice Tea" pic.twitter.com/kyAIgas4Ch

— Kevin (@lolHauntzer) January 20, 2017
MRW:
6. TL;DR = Too Long; Didn't Read
The internet is filled with many detailed information and sometimes it's a whole lot of fluff that many of us wouldn't go through because we might not have the time. TL;DR was created to give things a quick summary of the content.
7. TIL = Today I Learned
This acronym has it's own subreddit on the famous forum site Reddit. TIL is used when you learn an information that isn't exactly new, but it's fascinating to you, so you share it with the world by adding a "TIL".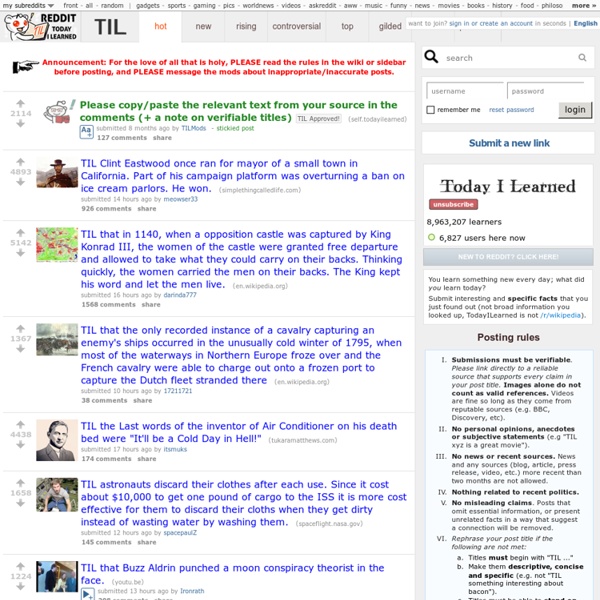 8. ELI5 = Explain Like I'm 5
The internet can also be a place where things get complicated. When scientists talk about science or IT guys talk about IT things, it can get very complicated and too complex for the rest of us who do not know the field that well. By using ELI5, you're asking if someone can simplify things for you in layman terms.
9. QFT = Quoted For Truth
Hardly seen, but very much known in the internet world, QTF can be used in two ways; the first is when someone says something you vehemently agree with that you couldn't have said it better yourself, and the second, is when someone says something you can use in the future – whether against them or for their betterment.
For example:
A: Goddammit I love Justin Bieber
B: QTF. Deffo reminding you about it when you're sober.

10. FTFY = Fix That For You
This can be used in two ways; literal, where if you say something that has an obvious unintentional mistake, and the other, can be sarcastic.
Mrs. Trump and her speechwriter exit the WH and will ride together to the Capitol.

FTFY. https://t.co/hQG9vlx8fg

— Eli Clifton (@EliClifton) January 20, 2017
11. PAW = Parents Are Watching
This is something like the NSFW, but for kids who want to tell their friends NOT to send any NSFW/NSFL links to them, or not to say anything that may get them into trouble with their parents. Another way to use it to ensure that if your parents ARE there and you can't exactly say "my parents are here" would be to use CODE 9, which is the same thing.
Others include:

12. YMMV = Your Mileage May Vary
This is another acronym that you don't see often, but it exists. YMMV is used whenever you want to explain – in relation to a situation or product – that your experience might not be the same as someone else's experience.
I like to lay my notepad flat on the desk when writing, but ymmv. https://t.co/RCkBdpKCSg

— Matthew Yglesias (@mattyglesias) January 18, 2017
13. OTP = One True Pairing
This acronym is used by fans who want two fictional characters from their fandom to be together. It can also be used for real life people such as your friends, celebrities, and also for your parents' relationship, if it's just too goddamn perfect.
My OTP #ObamaDay #ThanksObama pic.twitter.com/0PgJwq87aE

— Mer (@jumpatdesun) January 20, 2017
14. DTF = Down To F***
This is an acronym that's used less these days and is actually getting quite old, however, some people may still use it. DTF is used when you're up for getting laid, or to describe someone who's interested in getting laid. This acronym is very much NSFW, especially if someone sends you a 'suggestive' picture along with it.
BONUS: The Shruggie
Ah, the humble shrug. With a few lines and strokes, the meaning can range from "whatever", "why not", "who knows", "doesn't matter", "ehhh" and basically anything else that's a quick dismissal.
Joe Biden was committed to ending campus rape & Mike Pence is committed to shutting down places you would go after being raped

¯\_(ツ)_/¯

— Anna Drezen (@annadrezen) January 20, 2017
Older acronyms that are still being used include:
IDK (I Don't Know), IDGAF (I Don't Give A F***), IDC (I Don't Care), SMH (Shaking My Head), YOLO (You Only Live Once), FML (F*** My Life), and IMO/IMHO (In My Opinion/In My Honest Opinion).
And for anyone born in the 80s or 90s, I'm sure you know what ASL means…
Voila! Now, you can understand the internet. Go forth and venture into the interwebz!