Anyone who's not a Malaysian will never truly understand a Malaysian's love for the King of Fruits, that is Durian.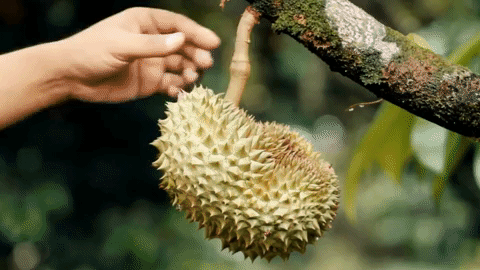 via GIPHY
And with that love, IKEA Malaysia has graced us with a Durian-inspired desserts at their restaurants, cafes, and bistros. And we are not ready for the bomb of flavour it's about to cause in our taste-buds.
Source
Calling out all the Durian-lovers! Here's just about everything that you can expect to get in IKEA (for a limited time, so HURRY!), so order away!
1. Durian Cake
Source
At the price of RM 9.90, this slice of goodness will be sold at IKEA Restaurant.
2. Musang King Frappe
Source
For only RM 9.90 you can get your frappes, but you're going to have to plan a date with your friends for this one, as it is only available at IKEA Cafes in Mutiara Damansara and Cheras.
3. Durian Tart
Source
For RM 6.50, this delectable, Durian-filled delicacy can be yours to salivate at IKEA Bistros.
4. Durian Puff
Source
For the price of RM 5.90, this explosive Durian puff can be gobbled and enjoyed by you. So make sure you get 2 of everything! (OR MORE!)
Hurry, as it will only be available from the 10th of June to 31st of July!
Which Durian dessert would you not hesitate to grab? Let us know in the comments!
Header image credit: Penang Foodie